In order to become a professional mosaic artist, it requires studies and a deep understanding of the history of art and the basics of design. However, studies alone are not enough and one needs a lot of experience and an understanding of the history and basics of art. Many years of intensive work brought me to where I am today: an entrepreneur who helps with mosaic community projects and a lecturer at the Tel Hai College
About the Artist
After many years of study in Israel and abroad I settled in Moshav Eli Ad which is located in the southern Golan.
I started a family (married +2) and set up an art studio which specializes in mosaic and print making.
Although I live in the country in the middle of nature and it inspires me, I also have constant communication with the art world and I go to meetings with other artists and colleagues and attend exhibitions and art events in Israel and abroad.
I believe that community projects are very important. It requires a combination of a highly skilled professional and the ability to lead and to inspire to get a community to participate in a common mosaic project. As well as working with these communal projects I also create mosaic art pieces for companies and private individuals.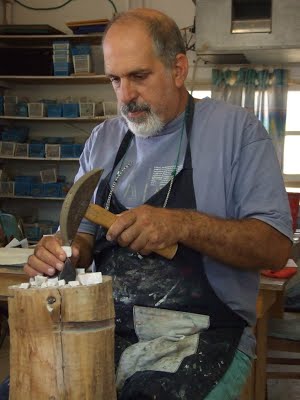 A Little Bit about Mosaic

One stone can be attractive and interesting with nice texture, shape, color etc., …but after all it is only a "stone".
A stone next to a stone is already the beginning of a composition, of togetherness, of a connection between the stones.
Mosaic –well that is already something completely different. Where you put the stones, their colors and their shape creates a bigger picture with a visual meaning to it which connects the stones to the picture and the visual message is conveyed.
Mosaic may be considered an ancient and "primitive" art form since it was widely used in the ancient world. But its simplicity, its beauty and the basic techniques of creating it are the parameters that have kept it alive as an art form from ancient times till today, while other ancient art forms have disappeared with the times.
We know of many uses for mosaic, whether religious, where mosaic was used in Roman temples, Greek temples and other places of worship, or secular, where floors and statues made of mosaic decorated palaces of kings and the homes of nobility.
Studied AT:

1979 -1980. Camberwell School Of Art – Foundation Course
1981 -1984. State Art College – Diploma in Art 1
1986-1988. City of London Polytechnic Art and Design Diploma
1988-1991. Wimbledon School of Art M.A. in Printmaking
1992. Ravenna Italy Course in Mosaic Making
Awards:
1982-3. American Israel Culture Foundation Scholarship.
1983-4. Helena Rubenstien Foundation Scholarship.
1992. George Mayer Marton Scholarship, to study Mosaic in Raveana Italy.
1997. Public- Art Award
1998. Public Art Award for Art in the Community.
Commission
1984. Monument in the Golan Israel.
1993. Mosaic Mural in Willseden London.
1993. Mosaic Mural Anson School London
1994. Two Mosaic Columns Harlseden Tub Station London.
1995. Mosaic mural (20 mr) Waltham Forest London.
1999. Basalt Sculpture + Mosaic by the Sea of Galilee.
1997-2018. Thirty five Mosaic Murals and sculpturs in Israel.
Currently lecturing at Tel-Hai Art college
Privacy & Cookies
This site uses cookies. By continuing to use this website, you agree to their use.